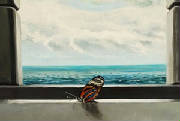 Refuge Angeles


Angels seeking refuge
are better off set free,
To weather time and
trouble and the
raging of the sea,

Than to linger in the
quiet space of never
having known, of what
it is to struggle, and
never having grown.

The heavenly
refreshment that a mortal
heart desires, is all but lost
on angels who never
felt the fires,

Or ever saw the
darkness, or felt the
death's caress, that turns
a soul to hunger in times
of great duress.

The mortal's path
is heavy, the scorching
sun's delight, but on
angels' backs will always
be the burden
of the light.